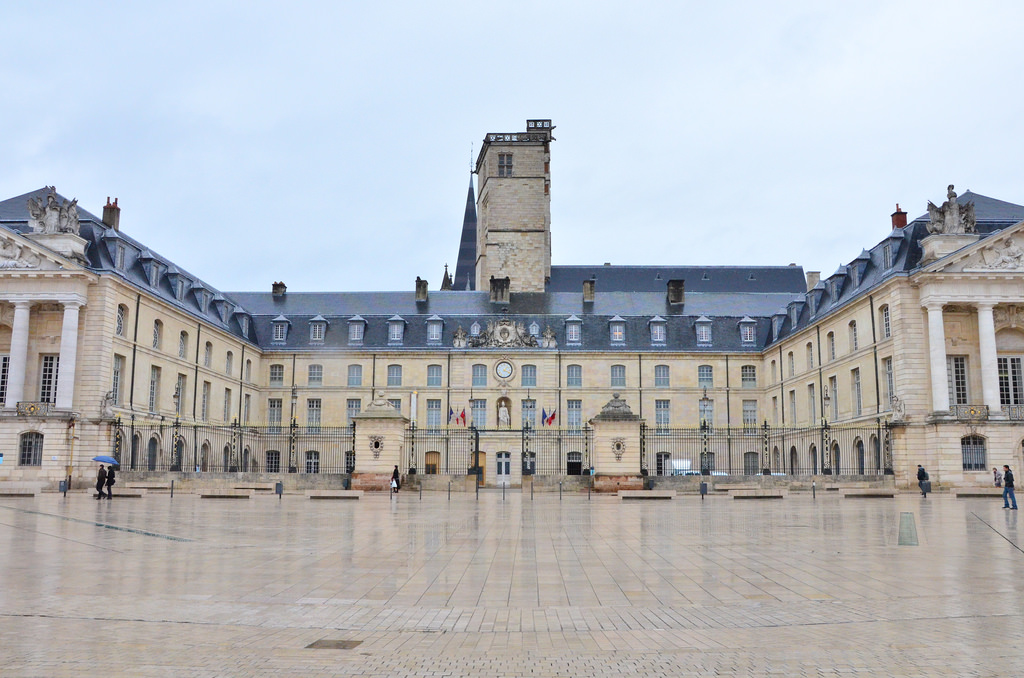 By Jennifer Ann Davies
NCWQ Arts and Letters Adviser
History opens up like a landscape for us to see through forgotten windows.
Musee des Beaux-Arts de Dijon, France
Philip the Good, Duke of Burgundy, welcomes visitors to what was once his palace constructed around 1450, in the capital of his duchy. Renovations on fifteen of the rooms began in 2013 and feature art from the Middle-Ages and Renaissance. Works date from the 5th to the 16th century and are displayed in rooms in which the original architecture marries well with the contemporary.
Varied and beautiful, many art works hide the secrets of their time with codes and symbols of power still being researched, recorded and debated. The Musee and works are of immense interest, with a huge tapestry, dedicated to Our Lady of Hope in 1513, of singular stature and an astounding work which is still being researched. The tapestry is hung facing Notre Dame de Dijon, which is depicted accurately in the painstaking threads woven centuries ago.
MUSEE DES BEAUX-ARTS Palais des Ducs et des Etats de Bourgogne (Free entry)                                     www.musees-dijon.fr
In Europe the word RINASCIMENTO appears in 1568 to express a phenomenon born in Italy in the previous century.
With the renovation of arts under the influence of the rediscovery of Antiquity, this period flourished from the 14th to the 16th century and both thinkers from Antiquity and Renaissance thinkers gave a more important place to man; exalted the beauty of material form and offered a new outlook on the surrounding nature.
Western exploration, commerce, territorial expansion funded by the powerful, innovations in science and philosophy all enthral artists and thinkers. In turn, new looks at Mythology reflect a more humanist conception of the human figure, now spatially set with the use of perspective. The 'renovation' spread via kings' courts, conflicts, trade and travelling artists. Musees et patrimoine de Dijon.
Dijon was called Divio at the beginning. It was a fortified town where the Gallic cavalry and Caesar's legionaries fought beneath its walls and let the Burgundians pass. However, these walls still helped to defeat King Gondebaud in 501, and he was taken prisoner by the Franks of Clovis.
The fortified town became a Ducal capital in the days of the Capetians. After the fire of 1137, new walls with eighteen towers, eleven doors and new archways were erected. The town that was built inside the walls hardly changed until the middle of the nineteenth century!  Building, change, conflicts, epidemics and even beheadings occurred in the years of the development of Dijon, but eventually, in 1646, the town became a real provincial capital, with a magnificent palace boasting a courtyard and royal square, beautiful mansions, private residences, and all went well until the revolutionary period, which, it is recorded "…was less bloody than elsewhere…", despite some disappearances and seizures of aristocrats' properties.
Canals and later the railways enabled Dijon to strengthen ties with the Paris basin, Atlantic Ocean and the Mediterranean world. In Dijon, it is said, you can see that living with one's time means nothing! People of different ages live side by side. Even visitors end up envying people from Dijon, it is claimed, for they are seen as lucky, especially when we see what is happening elsewhere!
Le DUKE Dijon City Guide: Bourgogne: printed in French with rare copies in English!
A Guidebook made with love by Dijon People + Beaune: 2017-2018.
"Le Duke is a guidebook for the visitor who wants to pretend to be FROM DIJON!"
Editor in Chief email: richard@bing-bang-mag.com
 UNSEEN, OIL SPILL POSES THREAT TO ASIA'S FISHERIES – The New York Times International Weekly – Tuesday, February 27, 2018.
Effects from this spill will almost be 'old-hat' by the time this segment is read – however, ongoing effects are expected, thusly I include this. A gentleman handed me this 'English' insert, from his French newspaper, on the train from Paris to Dijon. The article, written by Steven Lee MYERS and Javier C. Hernandez, is detailed, lengthy and originated in Zhoushan, China, citing a fiery collision that had sunk an Iranian tanker in the East China Sea over a month before publication, has resulted in an environmental threat experts say is unlike any before.
"An almost invisible type of petroleum has begun to contaminate some of the most important fishing grounds in Asia, from China to Japan and beyond."p.111. The article is of significance to Australian Fishermen, Fisheries and consumers. Inquiries: nytweekly@nytimes.com
IN A UNITED GERMANY, NEW BARRIERS HAVE ARISEN. Katrin BENNHOLD
Early this month, the wall that once divided Berlin, Germany and the world passed an equinox of German unity. The wall was gone for as long as it stood: 28 years, 2 months and 26 days. One generation has lived with the wall and one generation has now lived without it!
For the past 12 years the country has been run by Angela Merkel, who grew up in East Germany…….but walls remain in people's heads.
A former East Berlin mayor, Thomas Kruger, states that "German unity is still a work in progress." Now head of the Federal Agency for Civic Education, Mr Kruger runs an institution which endeavours to "…educate the German people about democratic principles and prevent any moves to re-establish a totalitarian regime." p.1
Worries exist about the sheer volume of immigrants; political shifts to extremes; the lack of integration and equalities between East and West; and whether or not the people want democracy or prosperity and authority."p.2
Christopher F. Schuetze contributed reporting.
LA JOURNEE INTERNATIONALE DES DROITS DES FEMMES, JEUDI 8 MARS, 2018. Today is Thursday, 8th March, 2018, International Women's Day!
I was given a rose for this special day, walking the cobbles of the old part of Lyon! – A free magazine, promoting urban Lyon to the public and visitors, laments what has not changed – with a noted example being the fact that only 2% of the street names are named for women; and that one of the few places where a woman is even mentioned, is the Amphitheatre des Trois Gaules, where the martyr, Saint Blandine is named. (162-177)!
LE PETIT MUSEE DE GUIGNOL
This small museum is unusual, and one in which are puppets collected from all over the world! The experience includes the history of the creation of Guignol, a beloved puppet of whom the Lyonaise are very proud. Guignol fights off the bullies!! Imagine how loved and effective he could be in our communities and in our schools! Watching the puppets move is an extraordinary experience! Listening to them is an added experience, which explains the value of this art and its place in a community.
Images and stories of Guignol abound in the old city, and the owner of the small museum also carves puppets and is happy to explain how and why puppetry engages young and old in the performances that still entertain many audiences in Lyon, weekly. He claims that audience members can ask questions of the puppets, which is not possible in a movie theatre, for example – everyone would say 'shhhh'! He continues telling me, this form of art and entertainment is an important one for the population of all communities, even though the style of puppets or marionettes differs from country to country. Once, as we all know, towns, cities and villages had puppet shows, street theatre, festivals and celebrations, such as bonfires and Guy Fawkes, through which ordinary citizens could posit their fears, anger, questions and many expressions and feelings; and the interaction promoted existing values, and social mores and sentiments of importance to each community. Thusly, these forms of entertainment allowed psychological benefits and connections that many communities, today, could well use.
BOOKS
"The Child"
Fiona Barton
….engrossing – irresistible…
Barton treats her broken characters with such compassion that you just want to reach into the pages and hug them! Penguin Random House UK 2017
'FIND ME'
Before They Do
J.S. Monroe
Gripping and sinister, this novel still generates an endearing balance.
J.S.Monroe @JS Thrillers     Facebook.come/FindMeBook
Head of Zeus Ltd. UK 2017
"Intricately woven and heart-stoppingly believable, this has bestseller written all over it." Clare MacKintosh.
Lyon – Marseilles – Nice.  Despite cold, wet weather for much of the time, visitors to the area of Provence-Alpes-Cote-d'Azur still visited the Musee which recounted the history of the restoration of Trophee d'Auguste a la Turbie at the Centre des Monuments Nationaux. The 'Trophee d'Auguste' is a commemorative monument also known as the 'Trophee des Alpes'. Erected in the year 6BC to the glory of the Roman emperor Augustus, conqueror of the peoples of the Alps, it is one of the two remaining structures of this type still in existence. From the top of the old Via Julia Augusta, it dominates the entire French Rivera from the Esterel to the Italian coast.
IL PORTO ANTICO DI GENOVA – 30 'panels' (sketches) – Genoa, Italy.
HISTORY -Genoa was a new and interesting experience for me and continues to attract many visitors. Today the Old Port of Genoa is an extensive waterfront area offering a broad range of leisure, culture and entertainment facilities and services. The re-development project was designed by architect Renzo Piano for the Columbus Celebrations in 1992, but more recent work continues.
As the name reveals, this is the oldest part of the Port of Genoa and the outcome of a process of stratification that began more than a thousand years ago! For centuries this was where Genoese ships set sail to conquer the world, and also where Christopher Columbus began his career as a navigator. There exists an itinerary of the descriptive panels which offer a brief summary of the history of the port, reminding us that while the sea separates continents geographically, it is also historically what has reunited them. Bruno GIONTONI: Porto Antico di Genova S.p.A.  (I have a numbered list of the panels mentioned, which you are welcome to view, but had not accessed online contacts at time of departure from Genova. jenunicorn75@hotmail.com)
ART –The entire city of Genoa is ancient, interesting and beautiful. However, there are also many stimulating exhibitions, performances and fantastic libraries on offer. Of particular interest, currently, is PICASSO. Brilliant, rebellious, passionate, playful, ironic – Pablo Picasso was all of these things and much more. He was the artist who left the deepest mark on twentieth-century art, revolutionising its methods and aesthetic canons.
It is claimed that in his long and tireless artistic quest he left mere virtuosity behind, seeking instead to create art that was direct, energetic and dynamic. The Genoa exhibition presents a selection of works from Paris's Musee Picasso that have been divided into thematic sections, thus allowing the visitor to retrace the artist's extraordinary artistic and human adventure.
Capolavori dal Museo Picasso, PARIGI/Genova Palazzo Ducale Fondazone per la Cultura – prenotazioniscuole@palazzoducale.genova.it 2018.
FIRENZE – FLORENCE, ITALY – I met an opera singer on the train to Florence, who brought this to my attention. There is a photographic exhibition of the first edition of the New Generation Festival, held inside the enchanting Giardino Corsini, devoted to the most illustrious young international OPERA talents. Information and some photographs, Guy Bell, Firenze/made in Tuscany. 2018. p.69.
DISCOVERY – La Scoperta – A legacy from Cosimo de Medici! Crossing over the threshold is like stepping into another dimension, where space and time once again have value and contribute to creating an idea of beauty that must be adhered to. The Museum of San Marco is a concrete testament to a clear and bright renaissance.
Museum Director, Marilena Tomassia, is proud of the beauty, 'place' and prestige of this harmonious former cloister, renovated, for Cosimo, by the Medici's favoured architect, Michelozzo. The words 'authentic' and 'fascinating' are applied to the works on display in this museum, by myriad visitors. p.75.
Eileen GUGGENHEIM is photographed and interviewed by Firenze/made in Tuscany. She is in Pietrasanta for an exhibition at Accesso Galleria with Warhol's 'pupils'. p.30.
THEATRE AND CULTURE – 'My Gift for Florence', written by Teresa FAVI, who writes "…Thanks to Franco Zeffirelli, a cultural centre for performing arts and cinematography has been created in Florence." p.135. The centre has a hall dedicated to Maria Callas; a portrait of Pippo Zeffirelli and a staggering treat for the senses, 'The Inferno Hall'. p.136.
FM publishing srl
copyright@GruppoEditoriale.srl
THE FLORENTINE – The English-speaking magazine in Florence – Year XlV March 2018 – 243 – www.theflorentine.net
I mentioned this magazine in 2017. Distribution is considerable and done by bike! The content is also considerable and varied, with a range of socio-political and socio-economic issues of high interest. Helen Farrell is editor-in-chief.
The current edition of the magazine looks at food issues – bread of significance; "Invisible Women' news; changes, renovations and upgrades in areas from art museums to having tickets checked at the station Santa Maria Novella! There is often an article addressing FOOD WASTE – and this month's is about 'Fighting Food Waste in Dicomano', which incorporates interesting statistics to ensure that addressing this problem CAN be a reality and not simply rhetoric. p.6.
Michele Capecchi writes with empathy, directness and simple clarity, to encourage women to come forward for help. Michele opens her invitation: "Far too often during my career, I have met female clients seeking legal separation and protection from their husbands. Even after many years of practice, I am still shocked at the level of violence and the abuse of power that occurs in the family home." The article is worth reading and both affirms and challenges the values that shape the social mores, not only of this beautiful part of our world, but in most of our societies! p.14.
theflorentine.net
theflorentinepress.com
Write to: – redazione@theflorentine.net