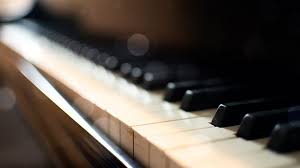 By Jennifer Ann Davies
NCWQ Music Adviser
With harmony and beauty, we compose, play, sing and enjoy….
'music' (noun). Art of combining sounds of voice(s) or instrument(s) to achieve beauty of form and expression of emotion; sounds so produced; pleasant sound, such as: song of bird, murmur of brook, cry of hounds…The Concise Oxford Dictionary.
'musical' (adjective and noun). Of music. Of sounds, voice etc. Melodious, harmonious…set to or accompanied by music. The Concise Oxford Dictionary.
BRISBANE CITY SOUNDS! An all-inclusive group of Women Singers is asking "Would you like to experience the thrill of 'a cappella' harmony singing? Details have been distributed through the National Council of Women Queensland Incorporated, to member groups, so this is an additional reminder of new possibilities for those who love to sing and nourish the souls of others in the community!
A four-week vocal education programme is offering, in Paddington, from 14thFebruary through to 7thMarch 2019. The programme is for experienced and novice singers and the opportunity exists for singers to perform in celebration of International Women's Day, on the evening of Friday 8thMarch, 2019. Information: www.brisbanecitysounds.com.au
MUSIC BY THE SEA – February 2019 – SANDGATE. This annual music festival presents a line-up of classical, folk, jazz, popular and world music, by local, national and international musicians at venues around Sandgate. www.visitbrisbane.com.au
JEROME'S LANEWAY FESTIVAL – February 2019 – BRISBANE. A 'boutique festival' in which there may be some surprises to enchant audiences! Aha! What world famous artists could be performing in 2019? www.visitbrisbane.com.au
ISRAELI SINGER, Yasmin LEVY, mostly performs 'Latino' music and uses violin and cello as well as more modern flamenco instruments. Yasmin has been celebrated by the BBC and World Music Awards and has progressed the generous, rich and beautiful world of Women and Song, with special acclaim in France and Sweden. On behalf of the National Council of Women Queensland Incorporated Australia, I would like to thank my contemporary Hedva BACHRACH for information on women in music, in Israel, and would like to continue to introduce our members to each of these women in music, as the year progresses. Shalom!
CENTRAL QUEENSLAND CONSERVATORIUM OF MUSIC – MACKAY, has a detailed, 'user-friendly' website to provide the public with information about:
Applications and Auditions
CQCM Performances and Events (needs updating for 2019*)
General Information about studying Performing Arts
Relevant Maps cqu.edu.au
To showcase the skills and talents of their music, the conservatorium hosts myriad performances annually. Performances range from full musical theatre productions, to drama, children's theatre, jazz performances, recitals, concerts and community events.
OPERA QUEENSLAND welcomes patrons to the 2019 season! Events offering:
A Flowering Tree
Tosca
Orpheus and Eurydice
Requiem
"A Flowering Tree" explores themes of magic, transformation and the healing power of deep and selfless love. This is a majestic re-telling of a traditional Indian folk tale by world renowned composer, John Adams. 2-6thApril 2019 – QPAC. www.oq.com.au
'MARILYA' is a group of young indigenous singers based in Cairns. With mature and beautiful blending, the members of this choir sing with a warmth and richness unusual for their age-group! An interesting history of events, from 2015/2016/2017, is available online and the release of a 2017 collaboration 'SPINIFEX GUM' was celebrated on ABC television on Australia Day, 2019. This group, of whom we may be very proud; explodes with the freshest, most united exuberance, evident in joyful harmony with Life, Youth and Music! The group members and their song, music and utterly synchronised movement welcomes today and tomorrow! – A gift! www.gondwana.org.au/performance_choir/marilya
A BEAUTIFUL SOUNDTRACK for the Disney Fantasy Adventure: THE NUTCRACKER AND THE FOUR REALMS, is composed by James Newton HOWARD and based on themes from TCHAIKOVSKY'S classic 1892 ballet score. This music was recorded with the London Philharmonic Orchestra, conducted by Gustavo Dudamel and features pianist, Lang Langas soloist. A beautiful 'note'on which to bid you 'au revoir'!