By Helen McAllister
NCWQ Education Adviser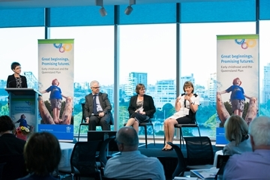 Summit opens for historic Education Accord Minister for Education, Training and Employment
The Honourable John-Paul Langbroek

Thursday, 25 September 2014 4:06 AM

The future of schooling and the education pathway taken by Queensland children will be mapped out at an historic meeting in Brisbane, attended by hundreds of delegates from across the State.

Education Minister John-Paul Langbroek said the Education Accord Summit would have a major impact on Queensland, setting out a 30 year plan that would shape the State's future. "Queensland's future leaders, thinkers, employers and innovators will be going through our education system over the next three decades and we must have a vision for them," Mr Langbroek said.

"We're developing this Education Accord to determine priorities for schools and students for the next 30 years – a long term plan for educational improvement.

"The key people involved in the system across all school sectors – state, independent and Catholic will help chart this course.

"The summit reinforces the message that we all have a part to play and that we share a common goal of a high-quality education system."

Mr Langbroek said he looked forward to hearing what delegates thought Queensland's schools would look like in the decades to 2044."Discussion topics include the major trends affecting school education, how to drive improvement in schools, and how all Queenslanders can contribute to that improvement," he said.

Cairns School of Distance Education P&C President Rachael Wynberg said the Education Accord was an unprecedented opportunity for all participants in education – parents, tutors and teachers alike – to have input into the long-term plan for Education in Queensland.

"As a Home Tutor and parent home-schooling in North Queensland, I am passionate about delivering quality education that is focused on the amazing individuals whom we are responsible for guiding through life," Ms Wynberg said.

"I believe this can be achieved with a holistic approach to learning that helps each child reach their full potential by focusing on their individual passions and nurturing these talents."

Renowned speaker Dr Stefan Hajkowicz, who leads CSIRO Futures, will outline the global megatrends including digital technology development and the likely impact on the economy and education.

"Despite all our capabilities there are so many problems we can't yet fully solve," Dr Hajkowicz said. "The answer that truly works is crystallising in the mind of a bright kid at school in grade four who is thinking about things in an entirely new way… That's why education matters

Other keynote speakers include Dr Ben Jensen, Chief Executive Officer of Learning First, Professor Peter Coaldrake, Vice-Chancellor, Queensland University of Technology and the Master of Ceremonies Mr John Daley, Chief Executive Officer of the Grattan Institute.

Premier Campbell Newman, Treasurer Tim Nicholls and Mr Langbroek will also address the summit. The government began community consultation in May with an online survey open to all Queenslanders. More than 600 responses were received to seven key questions drawn from the Queensland Plan and Members of Parliament have consulted with their constituents and industry leaders have given their views.

More information about the Education Accord and the Queensland Plan can be found at http://deta.qld.gov.au/about/educationaccord
Queensland students get lessons on alcohol and drugs
Queensland secondary students will start a new education program to prevent alcohol and drug-related violence from Term 4, delivering on the election promise to revitalise frontline services.
Education Minister John-Paul Langbroek said the new program was part of a suite of initiatives developed under the Queensland Government's 'Safe Night Out Strategy'.
"The Alcohol and other drugs education program aims to help students understand the impact and consequences of alcohol and drug use and to behave responsibly," Mr Langbroek said. "Prevention is critical and education is one key element in changing social and cultural attitudes to flag violent behaviour as being unacceptable."
Mr Langbroek said students were encouraged to discuss alcohol and drug-related issues with their parents or caregivers and the education program was designed to support rather than replace these vital interactions. "The program promotes the ability to make responsible, safe and informed decisions so all Queenslanders can enjoy going out at night with safety," he said.
Member for Brisbane Central Robert Cavallucci, who chairs the Safe Night Out Implementation Panel, said the program was based on research and best practice and would be rolled out next term for Years 11 and 12 and from Term 1, 2015 for Years 7 to 10."The program includes online teacher guidelines and resources appropriate for each year level and five one-hour sessions per year level that can be delivered in flexible timeframes to suit each school community," Mr Cavallucci said. "Content is based on the principle of harm minimisation and covers culture, attitudes and social expectations of drug and alcohol consumption, including the risk of binge drinking, illicit drug use and alcohol and drug-related violence."
International expert Mr Paul Dillon, Director and founder of Drug and Alcohol Research and Training Australia, said it was extremely exciting to see a new resource which provided secondary teachers with a program for all Year groups from 7 to 12."This is something that few, if any other Australian resources have ever done, ensuring that young Queenslanders are as prepared as possible, with up-to-date and accurate information," Mr Dillon said.
Andrew Pierpoint, President of the Queensland Secondary Principals' Association, also welcomed the program. "It allows schools to tailor delivery in ways that suit the local context," he said. "Families, schools and the wider community need to work together to ensure our young people have information that is factual and relevant to their lives."
The program will be mandatory for all Year 7 to 12 state school students and it will be made available to all non-state secondary schools. Further information about the program is available at: http://education.qld.gov.au/curriculum/safe-night-out/
New laws to keep Queensland schools safe
Queensland principals will have more powers to make their schools even safer as part of the LNP Government's plan to support local decision-making and improve outcomes for students. Education Minister John-Paul Langbroek said a raft of new laws passed by Parliament delivered on the government's commitment to make schools safe places to learn and work. "This government has an unrelenting focus on improving student discipline and empowering schools to achieve better outcomes for students," Mr Langbroek said. "We know that principals and school communities are in the best position to make many of the decisions that impact on children's safety at school and their learning. "Under the new laws, state school principals will have more power to deal with student behaviour and keep their schools safe – which is what Queensland families expect. "From 2015, principals will be better placed to make decisions on suspending students on the grounds that they are facing charges for serious offences such as murder, rape, attempted murder and arson. "Only the Director-General will have the power to obtain information from police to confirm whether a student has been charged with or convicted of a serious offence. "I can assure Queenslanders that strict protocols will be put in place to protect the storing and sharing of this information, which will be provided to principals if the Director-General deems it necessary for school safety."
Mr Langbroek said principals would complete risk assessment training before they would be able to request and access the sensitive information. "From next year principals at both state and non-state schools will have the power to immediately deal with a hostile person on school grounds by telling them to leave and not to re-enter school grounds for up to 24 hours," Mr Langbroek said. "Previously principals had to issue the direction in writing, which was an unnecessary and time consuming administrative burden."
Other important changes include:
The Director-General will be able to delegate to the state's seven regional directors the power to commence prosecution against parents who don't send their children to school.
Changes to improve safety and educational outcomes in schools, including limiting the enrolment of mature age students to state schools specifically positioned to cater for them.
Principals of these schools, rather than central office, will be able to determine whether or not an adult is to be enrolled at their school, taking into account any criminal history information.
Amendments to the Education (Accreditation of Non-State Schools) Act 2001 to streamline the establishment of special assistance schools to support the re-engagement of disengaged youth in education.
Enhanced autonomy of non-state school principals by empowering them to grant exemptions from compulsory schooling obligations for periods of up to 110 school days. Currently, these decisions are made within the department. The Minister said the legislation reinforced the push to increase school autonomy, reduce red tape and improve educational outcomes. The Education and Innovation Committee reviewed the Bill and recommended it be passed.
Great Results guaranteed for students in 2015
The literacy and numeracy skills of Queensland children will improve, with $183 million going to all state schools in 2015 in the second round of the Great Results Guarantee. Premier Campbell Newman said the Queensland Government had a strong plan to achieve better student outcomes and revitalise frontline services. "I want Queensland to be among the top performers in literacy and numeracy in Australia by 2020," Mr Newman said. "We have boosted funding and are targeting the money to where it's needed most, to ensure our education system is world class now and in the future. "That's why this annual funding comes with a guarantee that every Queensland state school student will either achieve the National Minimum Standard for literacy and numeracy for their year level or have a plan in place to address why they might be falling behind.
Education Minister John-Paul Langbroek said the investment was the result of the Abbott Government's $794 million Students First – A fairer funding agreement for schools initiative to be delivered over the next four years. "Queensland is the only state or territory in Australia that is giving every single cent of this funding directly to schools," Mr Langbroek said. "It has already empowered schools to put in place effective programs that drive lasting improvements and I have no doubt that we'll see this continue into the future." Mr Langbroek said the 2015 investment was $52 million more than the $131 million provided in 2014, the first year of the Great
Milton State School Principal Paul Zernike said the local decision making approach was a big win for schools. "The flexibility to decide how we invest our funding has had huge benefits, letting us target specific learning areas like spelling and reading through methods that work for us rather than a prescribed one-size-fits-all approach," Mr Zernike said. "Here at Milton State School we've been able to expand our Visible Learning Program and also employ extra teaching staff, giving the students more one on one support from our teachers and teacher aides.
"Through the Great Results Guarantee funding, our teachers have been able to learn from international experts on inquiry learning and critical thinking skills, developing valuable teaching skills that will benefit students for many years to come. "For us, it's about making sure every student is challenged and inspired and I'm very happy with how the Great Results Guarantee is helping us fulfil that commitment."
For more information on the Great Results Guarantee, visit www.education.qld.gov.au/resultsguarantee
Government to consider OP review
Year 12 assessment and university entrance rankings are set to undergo their biggest transformation in more than two decades with the completion of a major review into Queensland's Overall Position (OP) system. Minister for Education, Training and Employment John-Paul Langbroek said the independent review had been conducted over more than 12 months, including extensive consultation with educators, universities, parent associations and unions.
He said the government would use the Queensland Review of Senior Assessment and Tertiary Entrance Processes to develop a more modern and equitable alternative. "When it comes to education, the Queensland Government is determined to give students every opportunity to enjoy a bright future," Mr Langbroek said.
"The OP system has served Queensland well since its introduction in 1992, but is becoming less relevant as education evolves. "Twenty years ago, Year 12 mainly comprised students who intended to go to university but today, most Year 12 students successfully combine an academic range of courses and vocational qualifications, providing options for further education, training and work.
"As a result we have seen a decrease in the percentage of Year 12 students awarded an OP. In 1992, about 80 per cent of Year 12 students received an OP. By 2013, this had dropped to 54 per cent. In contrast, 57 per cent of Year 12 students completed a vocational education and training qualification in 2009, increasing to 67 per cent in 2013. We want Queensland to be at the forefront of the best education practices nationally and internationally and to achieve this we must have a modern tertiary entrance system that reflects the needs of students."
Led by Professor Geoff Masters and Doctor Gabrielle Matters, the review by the independent Australian Council for Educational Research (ACER) includes a range of recommendations.
Mr Langbroek said the Queensland Government would carefully consider the content of the review before developing the official government response. "Any changes that arise from this process will likely be phased in over a number of years, to ensure senior students are able to plan their post-schooling pathways," he said. "I need to stress that current Year 11 and 12 students will not be impacted when the government releases its response
"I'd like to thank Professor Masters and Doctor Matters for their hard work in preparing this extensive review – their efforts will be invaluable to educational reform in our state. Their work will help us develop a modern senior schooling and tertiary entrance system that accurately reflects the multitude of opportunities available to young Queenslanders today."
The final report recommendations are available at: www.acer.edu.au/queenslandreview
Event puts plan into action
Achieving the best outcomes for children in the years to come was the focus of the inaugural two-day Early Childhood Education and Care Network Event held in September at QUT Gardens Point.
Nearly 100 delegates heard from international and national speakers on key points of interest for Queensland's early childhood education and care sector at the department's'Great beginnings. Promising futures. Early childhood and the Queensland Plan' event.
Hosted by Education, Training and Employment Minister John-Paul Langbroek, presentation topics included quality service delivery, educational leadership, working with vulnerable children and the power of play-based learning.
Futurist Bernard Salt linked his insights on how early childhood needs in Queensland might evolve with the aspirations outlined in the State Government's Queensland Plan. Commissioner Dr Wendy Craik gave an update on the Productivity Commission's inquiry into childcare and early childhood learning.
Director-General Dr Jim Watterston highlighted the department's increased focus on the early years, outlining the new operating model including the recent appointment of Early Childhood Education and Care Directors for each region. Delegates also heard about a model used in the Darling Downs South West region to ensure children enjoy a smooth transition from early childhood settings to school and delegates shared feedback on considerations for a statewide approach for transitions. Attendees from throughout Queensland included senior representatives from early childhood education and care organisations and early childhood development program providers, and senior government officers with responsibilities for the early years.