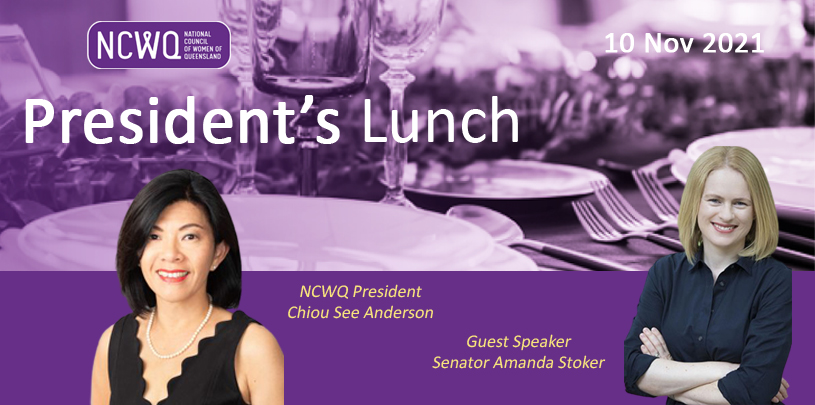 Your Invitation
The National Council of Women of Queensland Inc welcome you to attend our (rescheduled) 2021 President's Lunch, with special guest speaker Senator Amanda Stoker.
About the President
Chiou See Anderson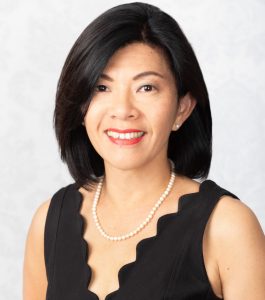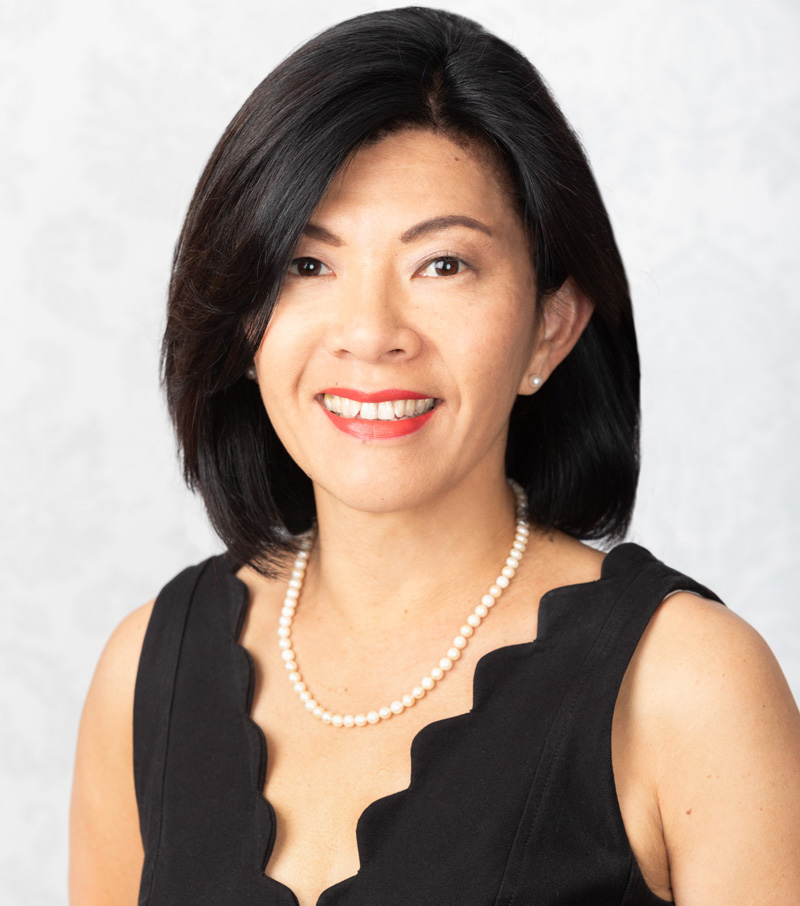 Chiou See Anderson assumed the role of the President of the National Council of Women of Queensland (NCWQ) in 2019 and is currently the National President Elect of the National Council of Women of Australia (NCWA).
An Accountant by trade, Chiou See had an interesting corporate career, including a 5 year stint managing a flight training and aircraft engineering school at Archerfield. In 2003, using big data analysis, she set out to establish Elements Third Age Living @ Springwood, a 123 home retirement village nestled in the Daisy Hill Conservation Park. Chiou See is also the Chairperson of Conpago – a seniors application platform providing social outcomes for seniors and compliance outcomes for care providers.
About the Guest Speaker
Senator Amanda Stoker
In December 2020, Amanda was appointed as the Assistant Minister to the Attorney-General. In March 2021 she was also appointed Assistant Minister for Industrial Relations, as well as the Assistant Minister for Women.
Amanda joined the Liberal Party at the age of 19. She has spent over a decade growing in the party and giving voice to her convictions. She is motivated by the desire to see Australia return to a country of opportunity based on centre-right values.
As a Brisbane based member of the Liberal National Party, Amanda sits in the Liberal Party room in Canberra. Amanda is on the Economics, Finance and Public Administration, Public Works, Future Work and Regulations and Ordinances Senate Committees, as well as the Joint Standing Committee on the recognition of Indigenous people in the Australian Constitution and the Select Committee on Charity Fundraising.




About the Venue
The Tattersalls Club Brisbane, founded in 1865 by a group of men, is one of the first "gentlemen's" clubs to end gender-specific discrimination in 2018 by welcoming women as financial members. As one of the oldest institutions in Queensland, Tatts is delighted to be able to partner with the NCWQ to ensure equal access and equal opportunities for all. Our 2021 President's lunch will be held in the prestigious Member's Dining Room where guests will be treated to the unique style & elegance reminiscent of the Great Gatsby era.
Details
Date
Wednesday, 01 November 2021
Time
President's Lunch: 12:00pm for a 12:30pm start
Ticket Price
President's Lunch: $85
Drinks can be purchased at the venue.
Venue
RSVP
Who can attend?
This event is open to all NCWQ members and non-members alike. If you wish to join NCWQ, we welcome new membership applications. NCWQ membership starts at $24 per year. You can apply here.
COVID
Please note that you will be required to adhere to the venue's COVID safe plan.
How to Book
Tickets strictly limited – Book now via Humantix >>
For enquiries contact events@ncwq.org.au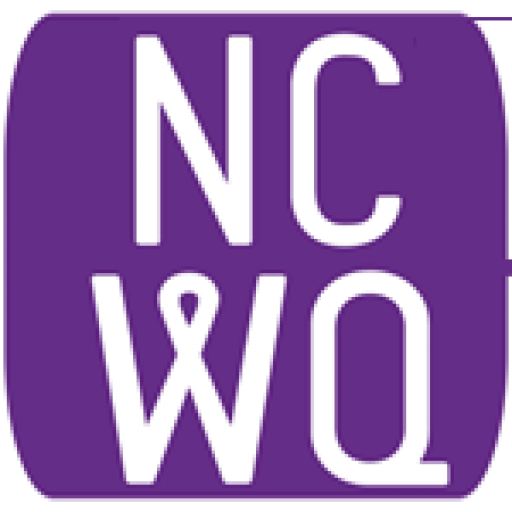 Events coordination by NCWQ, on behalf of the National Council of Women of Queensland Inc (NCWQ), its affiliate members, associate members, networks and supporters. If you have an event you would like to share with an interested Queensland community, please contact us with details. Thank you.