After COVID restrictions last year, we were all especially anticipating this year's bursary fund-raising event. And the 200 people attending were not disappointed!
With Tattersalls Club  providing the ambience, service and high tea, we were entertained by the delightful Sue Wighton. Previously a columnist in the Courier Mail, the multi-talented Sue sang mostly her own compositions, often tongue-in-cheek, and definitely enjoyed.
With the theme to honour nurses, lucky door prizes provided relevant snippets and stories, then with Joy Wilson giving us more in-depth information. Fashions were once again provided by Lee from Soubrét Pink, the models showing off current trends with style with aplomb.
Bridie Shooter, a 2020 recipient of the NCWQ-sponsored bursary for students from regional or rural Queensland relocating to continue their tertiary study, was guest speaker. Definitely confirming her selection as recipient, Bridie spoke eloquently about the opportunity provided by the bursary for her, but within the broader context of her visit to the Solomon Islands, and education there. The image of an orange vest moving across the river, hand held high so the exercise book and pencil arrived in working order, remains with us all – a true testament of what education can really mean.
This event has been held for many years, orchestrated by Noela O'Donnell AM and supported by many loyal followers.
We thank you for guaranteeing funds for the NCWQ-sponsored 2022 bursaries.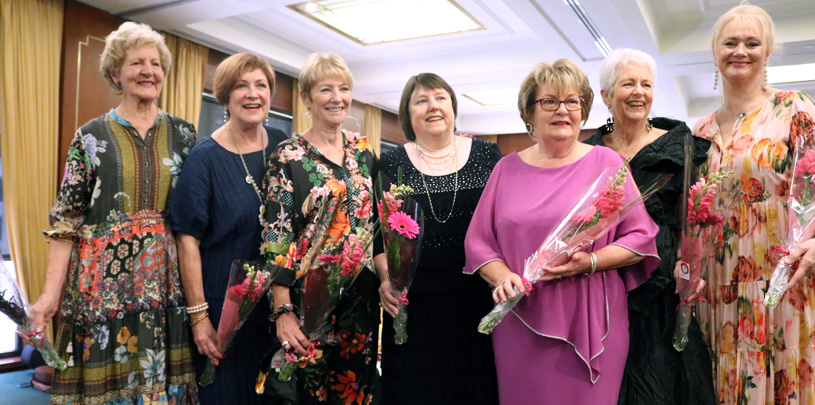 ---
About The Bursary Program
Established in 1905, the National Council of Women of Queensland Inc. (NCWQ) continues to represent the voice of thousands of women through its affiliated organisations and individual membership.
The bursary program, since its commencement in 2009, indicates the strong commitment of NCWQ to equality of opportunity for all women, especially in offering assistance to Queensland female students as they pursue their chosen pathway of study.
The 2021 program, through NCWQ and its sponsors, offered a range of bursaries, to assist Queensland women with their educational expenses. Most bursaries are valued approximately $1,000 each.
For further information about the Bursary Program, please contact Kathy Cavanagh, NCWQ Bursary Program Manager at bursaries@ncwq.org.au or send a query here.
Kathy has been involved with NCWQ since 2011 (currently on the NCWQ Management Committee), and has been associated with ESA for many years. Now retired, Kathy has worked in a variety of contexts, both overseas and inter-state, in roles ranging from small business to writing and photography, but the main focus has been in adult education.
A wide-ranging career both within Australia and internationally has developed broad skills in communication, management and coordination, adapting to change. Writing skills in varied contexts, evidenced by production of second edition of self-funded booklet on cancer experiences, distributed to support other women and their families experiencing cancer.
Coordination, team work and management skills in bursary coordination role, working with over 100 people, including sponsors for 40 bursaries in 2020; coordinators and selection panel members; and recipients. Flexibility in adapting established processes within the COVID-19 environment to meet the required outcome of meeting sponsor conditions in the selection and recognition of bursary recipients. Kathy is the NCWQ Bursary Program Manager.