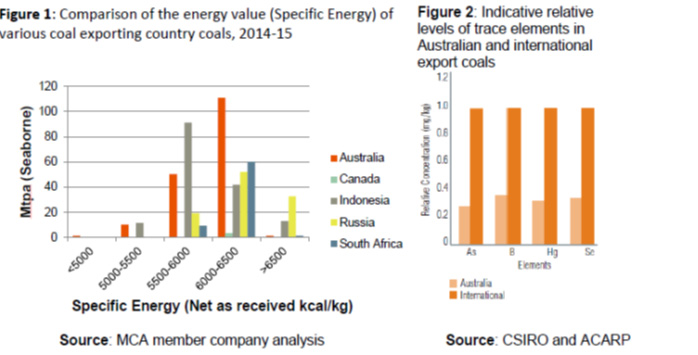 By Pat Pepper,NCWQ Environment Adviser
Condition of Great Barrier Reef (GBR): The Australian Institute of Marine Science's (AIMS) Annual GBR Condition Update report shows hard coral cover continued to decline in the central and southern GBR, while the northern GBR had stabilized. As AIMS Long Term Monitoring Program leader and ecologist Dr Mike Emslie notes there was substantial variation in the hard coral cover of individual reefs caused by disturbances such as crown-of-thorns starfish outbreaks, cyclones and coral bleaching events over the past five years. This affects the reefs' ability to recover as the AIMS map shows.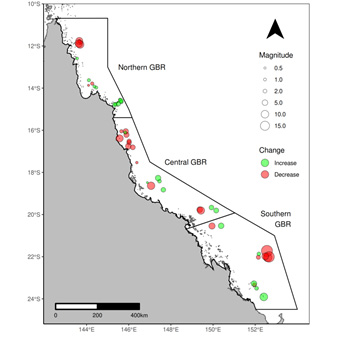 Boundaries of Northern, Central and Southern GBR with the locations of the 64 reefs surveyed by manta tows between September 2018 and June 2019. Size and colour of the symbols represent the magnitude of the absolute annual change in reef-level percent hard coral cover between 2019 and the previous survey. https://www.aims.gov.au/reef-monitoring/gbr-condition-summary-2018-2019
The Capricorn-bunker group at the bottom of the Southern GBR continued to recover from Tropical Cyclone Hamish which struck in 2009. This area escaped bleaching and crown-of-thorns starfish outbreaks, while the Swain Reefs suffered a devastating outbreak of crown-of-thorns starfish which resulted in declines in average coral cover last year.
The inshore and mid-shelf reefs in the Central GBR were more severely impacted than the outer-shelf reefs by Tropical Cyclone Debbie (2017), resulting in low hard coral cover. Many Central GBR reefs have had outbreaks of crown-of-thorns starfish, particularly in the Cairns, Innisfail and Townsville sectors, resulting in hard coral cover declining.
Recent declines in hard coral cover in Northern GBR reefs followed a sequence of disturbances after 2013, including cyclones, outbreaks of crown-of-thorns starfish and mass coral bleaching Low coral cover  in Reef 11-049 in the far north was attributed to the 2015/16 summer bleaching event. In the 2019 survey numbers of crown-of-thorns starfish were low. Coral bleaching was observed on some coral colonies. https://www.aims.gov.au/reef-monitoring/gbr-condition-summary-2018-2019 https://www.aims.gov.au/docs/media/latest-releases/-/asset_publisher/8Kfw/content/great-barrier-reef-gets-mixed-bill-of-health-in-annual-update
Impact of Climate Change on GBR: On 18 July 2019, the GBR Marine Park Authority (GBRMPA) released its position statement on climate change: Climate change is the greatest threat to the Great Barrier Reef. Only the strongest and fastest possible actions to decrease global greenhouse gas emissions will reduce the risks and limit the impacts of climate change on the Reef. Further impacts can be minimised by limiting global temperature increase to the maximum extent possible and fast-tracking actions to build Reef resilience.
The predicted consequences of climate change are:-
increased sea temperature,
more intense storms, tropical cyclones and flood events,
ocean acidification,
rising sea level
Already more intense mass coral bleaching events have occurred
The GBRMPA advocates actions to:
reduce global greenhouse gas emissions,
reduce cumulative impacts on the GBR,
build GBR resilience and protect key species for reef recovery,
enable adaptations and restorations of reef habitats
http://www.gbrmpa.gov.au/our-work/threats-to-the-reef/climate-change
GBRMPA – Position Statement – Climate change GBRMPA Document No: 100486 Revision: 0 Date: 25-Jun-2019
Shipping Risk to GBR: More than 9,600 ship voyages were recorded in the Reef between 2012 and 2013, http://elibrary.gbrmpa.gov.au/jspui/handle/11017/2855 From January to November 2017 there were 10403 of which 2835 were bulk carriers.
Great Barrier Reef  and Torres Straits Shipping Statistics Queensland Government November 2017
Many of the ships are foreign-flagged operating under the rules of the country where they are registered, which are not necessarily of the same standard as Australian rules. In three decades the national merchant fleet has shrunk from about 100 to 14. The risk is illustrated by the grounding in 2010 of the Chinese coal carrier Shen Neng I on a shoal of the GBR just north of the port of Gladstone, spilling oil and damaging more than 40 hectares of marine park over 10 days. :After years of court battles, restoration work is only now about to start on the reef //theconversation.com/how-flags-of-convenience-have-shrunk-australias-merchant-fleet-115059
The owners of Shen Neng 1 agreed to pay $35 million to the FG for the cost of removing polluted rubble and a further $4.3 million to cover costs incurred by FG in the immediate aftermath of the grounding.  The FG had sought 120 million in damages. https://www.abc.net.au/news/2016-09-19/shen-neng-1-owners-to-pay-39-million-over-barrier-reef-grounding/785895
In October 2014 the North-East Shipping Management Plan was published. Among the many recommended actions, Australian Maritime Safety Authority (AMSA) is to maintain a pollution response reserve of $10 million and line of credit of $40 million to ensure immediate access to funds in the event of a marine pollution incident. The North East Shipping Management Plan Work Program Status report as at January 2018 shows this as achieved. Action has been taken on other items e.g. GBRMPA and AMSA are to explore mechanisms to fund high priority restoration and rehabilitation of reef habitats (and the removal of antifoulant paints) immediately following a ship grounding. (AIMS, AMSA and GBRMPA are collaborating on a research project to identify the impacts and priorities of emerging contaminants in the GBR)
GBRMPA is to instigate research into
ship-sourced copper leaching from antifouling paints at GBR port anchorage sites to determine if this is an identifiable risk to the values of the GBR . (The International Maritime Organisation (IMO ) has agreed a new output to amend Annex 1 to the International Convention on the Control of Harmful Anti-fouling Systems on Ships (AFS Convention) to include controls on cybutryne. Australia supported further discussing the possibility of adding Cybutryne to the AFS Convention. The amendments are scheduled to be considered by the IMO's Marine Environment Protection Committee for adoption in mid-2018.)
the restoration of habitats affected by shipping incidents (e.g. coral and seagrass restoration, eradication of marine pests, halt impacts from biocides) –(The Shen Neng 1 trial clean-up is to be used as research into the restoration of habitats. Piper reef can also be used as an example. ).
However, does the report on the action –"AMSA to ensure that only high quality ships, operated by competent crews, are permitted to trade in the region by stringently enforcing standards in compliance with IMO guidelines for port State control.  (Ongoing port State control inspections ensure that foreign flag ships are seaworthy, not a pollution risk, provide a healthy and safe working environment and comply with relevant conventions. In addition, AMSA routinely updates its ship risk algorithm to improve targeting for ship inspections, incident recording, case management and trend analysis. )" instil confidence?
(amsa439-north-east-shipping-management-plan.pd; North East Shipping Management Plan Work Program
Status report as at January 2018.pdf
Australian researchers have raised fresh concerns that a major shipping disaster could harm the GBR, with new research revealing coal dust in seawater can kill corals and slow down the growth rate of seagrasses and fish. Berry, K. L. E. et al. Simulated coal spill causes mortality and growth inhibition in tropical marine organisms. Sci. Rep. 6, 25894; doi: 10.1038/srep25894 (2016)
Quality of Coal in Galilee Basin: Australia's coal had traditionally been of a higher energy value, and therefore higher quality than that of other countries, with lower levels of sulphur, moisture, arsenic (As), boron (B), mercury (Hg) and selenium (Se) and producing fewer emissions per unit of electricity produced.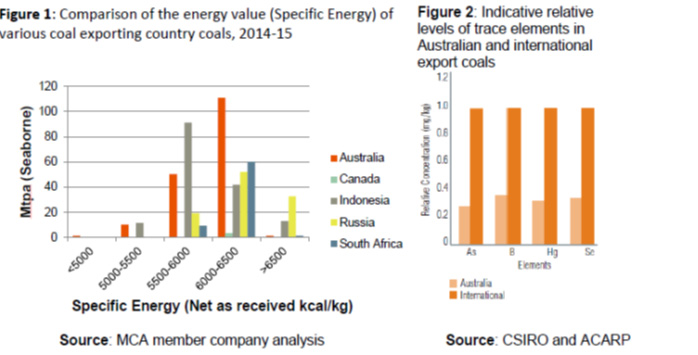 australia-high-coal-quality-mca.pdf
However the new coal mines being developed in the Galilee Basin in Queensland would produce lower energy coal than that exported in the past, which is probably why it's never been taken before. Adani's Carmichael mine in the north Galilee Basin is expected to produce coal with an energy value of 4,950 kcal and 25 per cent raw ash. https://www.abc.net.au/news/2015-11-27/fact-check-is-australias-export-coal-cleaner/6952190pdated 3 Mar 2016, Would the inferior coal be better left in the ground?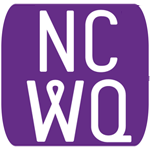 The National Council of Women of Queensland Inc (NCWQ) is a non-party-political, non-sectarian, not-for-profit, umbrella organisation with broadly humanitarian and educational objectives. It seeks to raise the awareness of members as to their rights and responsibilities as citizens and encourages their participation in all aspects of community life.
The NCWQ website content manager (webmaster) posts content on behalf of the NCWQ Management Committee and its members. If you have important communications, an event of matters of interest you would like to share with NCWQ, its members, network and supporters, please contact us with details. Thank you.