NCWQ AGM 2022
November 19, 2022 @ 10:00 am

-

11:00 am

Free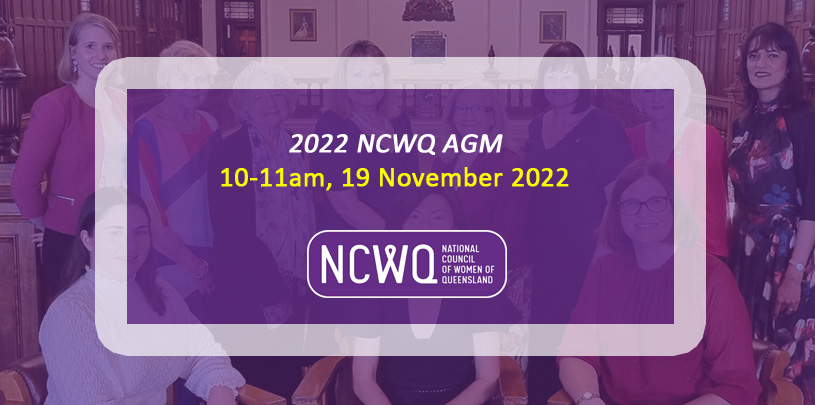 REMINDER: The National Council of Women of Queensland Inc (NCWQ) AGM will be held Saturday 19 November 2022. The meeting will be held via Zoom.
The Zoom Meeting link will be emailed to registered attendees one day prior to the AGM.
All NCWQ members are invited to attend.
Please RSVP today to ensure you receive the Zoom link.
Event Details
Date: Saturday, 19 November 2022
Time: 10am to 11am
Cost: No cost
RSVP by: 18 November 2022
Venue: Online via ZOOM
Enquiries: info@ncwq.org.au
Information Pack
The AGM Information Pack includes the following:
1) Notice of the NCWQ 117th Annual General Meeting
2) Proxy Form for the Annual General Meeting
3) Nomination Forms for the NCWQ Committee
4) Invitation to the 117th Annual General Meeting
Under our Constitution, only financial members can vote at our Annual General Meeting although guests are welcome to attend. If you are attending as the nominated Delegate(s) of an Affiliated Organisation, kindly note this when booking so we can ensure that your vote is counted.
RSVP
The AGM will be held via Zoom. Please register here.