Women in Leadership – Sports Management – Event Invitation
May 5, 2022 @ 5:45 pm

-

7:30 pm

$25
The National Council of Women of Queensland Inc welcome you to attend the first of our series discussing non-traditional pathways. In this series, we look to share and discuss alternative careers for women in our society.
For our first session, we have invited a panel of three successful sports management CEOs to give us their insights into female leadership in sport – Breeanna Brock (CEO of Brisbane Lions AFLW), Kate Davies (CEO of Netball QLD and the QLD Firebirds), and Alison Lyons (CEO of Hockey QLD).
About
Our panel will discuss various issues in sports management and leadership, including why there is a minority of women in senior leadership positions in the sports industry and what can be done to encourage and support more females into these roles.
All profits from this event will go to supporting Ukrainian women in QLD (see further details on this below).
Date: Thursday, 5 May 2022
Time: 5:45pm for a 6:15pm start, finish at 7:30pm
Venue: Morningside Panthers Australian Football Club, 4 Oak Street, Hawthorne
Cost: $25 includes tea/coffee and a snack on arrival.
RSVP: 3 May 2022
Book
About the Speakers
Breeanna Brock (CEO of Brisbane Lions AFLW)
Breeanna Brock was the first female CEO to be appointed in the AFL. In her nine -year tenure in female football, she has cemented Queensland's reputation as one of the powerhouse states for women's AFL.
By establishing the Brisbane Lions inaugural women's team, who won the AFLW Premiership in 2021, Breeanna has created a full playing pathway for the women and girls of Queensland. With access to this elite, high performing environment, females are no longer forced to abandon a game they love due to lack of professional opportunity.
Awarded the AFL Football Woman of the Year award in 2018, Breeanna's work is slowly dismantling age-old thinking around female representation in sport, to create a more level, gender-balanced, playing field.  "In my current role, I am able to combine my passion for AFL with helping women to achieve equality and success – both on and off the sports field."
Alison Lyons (CEO of Hockey QLD)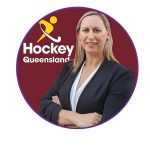 Alison was appointed the Chief Executive Officer of Hockey Queensland in September 2019. She has 15 years working in the sports industry both in Australia and overseas. Before moving back to Queensland she spent 7 years with Gymnastics Victoria and in that time progressed her career from Participation Coordinator to General Manager then on to the CEO role at HQ. Alison is the deputy Chair of Qsport and has held a previous board position with Softball Victoria.
Alison is a mentor in the Women Sport Australia mentoring program and is passionate about advocating for more women in leadership positions. Alison grew up in Far North Queensland but has spent much of her adult life travelling, she is excited to be back in Queensland especially with the 2032 Olympics on the horizon.

Kate Davies (CEO of  Netball QLD and the QLD Firebirds)
In January Kate Davies was appointed Chief Executive Officer, Netball Queensland and the Queensland Firebirds. She is particularly looking forward to making a contribution to the Firebirds,
considered to be one of the most iconic sporting teams in Queensland.
Davies has extensive experience across the public, private and not-for-profit sectors, including Senior Executive roles with local and state government, Cricket Australia and Queensland Cricket.
Moderator
Ronda Nix OAM
The Moderator for the evening will be Ronda Nix, NCWQ Committee Member and Bursary Coordinator for the Queensland Government Office for Women Bursaries.
A former sports administrator and sports official, Ronda was awarded an OAM in The Order of Australia in 2013 for her service to hockey
Proceeds to Support Ukrainian women in QLD
All profits from this event will go to supporting Ukrainian women in QLD through Ukrainian Community of QLD.
The UCQ Inc Ukraine Crisis and Humanitarian Assistance Council is raising funds to be able to provide urgent care and to meet specific needs for Ukrainian refugees, such as specialist medical treatment, crisis accommodation, disability equipment and foods etc. 
This is especially important whilst Ukrainian refugees do not currently have medical access, education access and the right to work as they arrive to Australia.
For more information, refer to their website.
Extra donations for this cause can also be made via the booking link (not tax deductible), or visit their website directly.