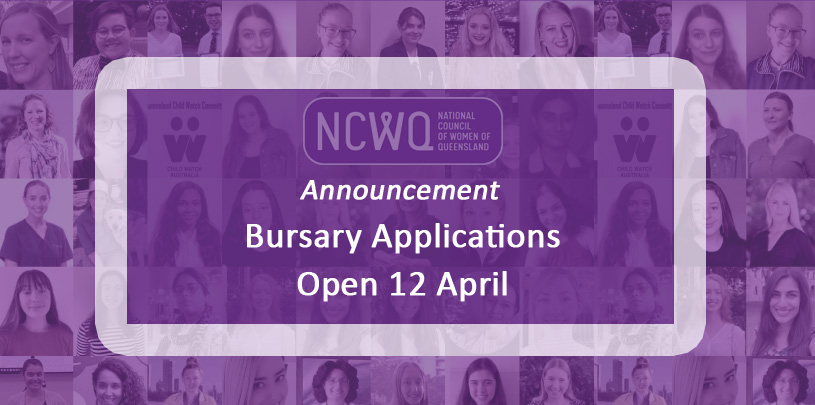 Please be advised that Applications for the NCWQ Bursary Program are set to open on Monday 12 April 2021.
Arrangements are being finalised with our sponsors for this year's bursary program. Although the full list of offerings is not quite complete, we expect the final result to be similar to those offered last year.
On-Line Submission – the big change this year will be the provision of online submission for applications. (A paper-based option will continue to be available, recognising the diverse needs of applicants, easy access, etc.) The on-line approach will also streamline some of the behind-the-scenes administration processes. Currently being developed, all will be thoroughly tested before going live.
Team Bursary is also coming together, with a few new additions to our regular members.
For any information about the 2021 Bursary Program, please contact Kathy Cavanagh, NCWQ Bursary Program Manager at bursaries@ncwq.org.au or send a Query here.
Regardless of any COVID restrictions which may be applicable at the time of the bursary presentation in early August, the E-Yearbook, an initiative to counteract our changed world in 2020, will continue.
Kathy has been involved with NCWQ since 2011 (currently on the NCWQ Management Committee), and has been associated with ESA for many years. Now retired, Kathy has worked in a variety of contexts, both overseas and inter-state, in roles ranging from small business to writing and photography, but the main focus has been in adult education.
A wide-ranging career both within Australia and internationally has developed broad skills in communication, management and coordination, adapting to change. Writing skills in varied contexts, evidenced by production of second edition of self-funded booklet on cancer experiences, distributed to support other women and their families experiencing cancer.
Coordination, team work and management skills in bursary coordination role, working with over 100 people, including sponsors for 40 bursaries in 2020; coordinators and selection panel members; and recipients. Flexibility in adapting established processes within the COVID-19 environment to meet the required outcome of meeting sponsor conditions in the selection and recognition of bursary recipients. Kathy is the NCWQ Bursary Program Manager.