Apply Now – Applications Close midnight Wednesday, 2 June
Applications continue to arrive for the 2021 NCWQ bursary program. 
With the bursaries rapidly approaching the closing date of 2 June 2021, Team Bursary is on standby for the usual rush of last-minute applications. (2020 set the record of over 250 applications received in the last 36 hours!)
The Selection Panels are in place for the crucial selection process to determine the recipients of the 2021 NCWQ Bursaries. This is always a time-consuming and difficult task – there are so many inspiring stories that we have been privileged to have been told.
Recipients are determined by early July, with the bursary presentation set for Tuesday 3 August, at the Old Museum, Bowen Hills. After the COVID cancellation of this function last year, it is a much-anticipated event for 2021.
Previous Recipients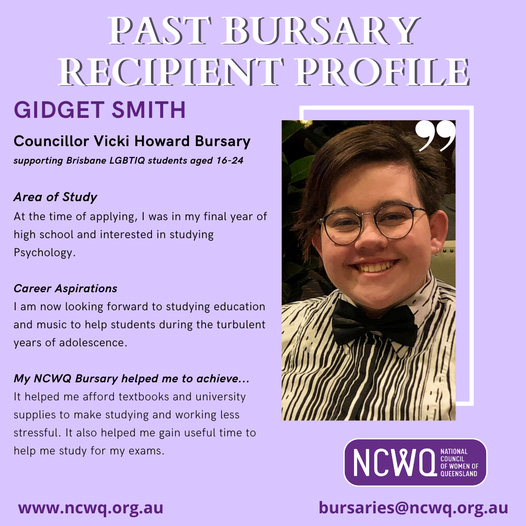 I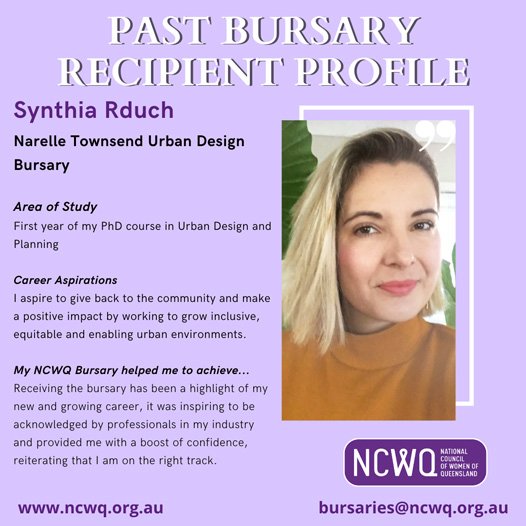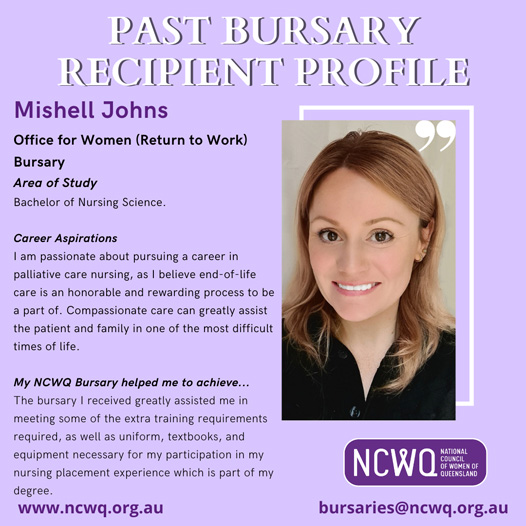 Further Information
For any information about the 2021 Bursary Program, please contact Kathy Cavanagh, NCWQ Bursary Program Manager at bursaries@ncwq.org.au or send a Query here.
Kathy has been involved with NCWQ since 2011 (currently on the NCWQ Management Committee), and has been associated with ESA for many years. Now retired, Kathy has worked in a variety of contexts, both overseas and inter-state, in roles ranging from small business to writing and photography, but the main focus has been in adult education.
A wide-ranging career both within Australia and internationally has developed broad skills in communication, management and coordination, adapting to change. Writing skills in varied contexts, evidenced by production of second edition of self-funded booklet on cancer experiences, distributed to support other women and their families experiencing cancer.
Coordination, team work and management skills in bursary coordination role, working with over 100 people, including sponsors for 40 bursaries in 2020; coordinators and selection panel members; and recipients. Flexibility in adapting established processes within the COVID-19 environment to meet the required outcome of meeting sponsor conditions in the selection and recognition of bursary recipients. Kathy is the NCWQ Bursary Program Manager.